Laminating BOPP Film(Hot Laminating)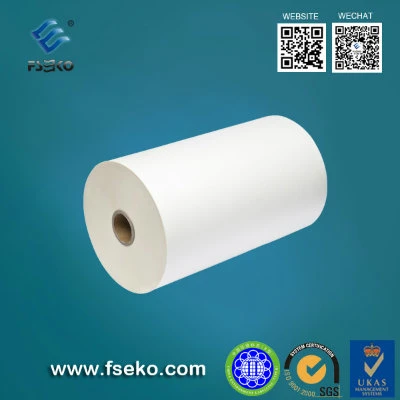 Features
Ø Good flatness and bonding
Ø Environmental friendly, solvent free
Ø Protect from tear, scruff, scratch, alter
Ø Easy handling, time and energy saving
Ø Optically brilliant, crystally clear appearance
Ø Unequaled mechanical strength and toughness
Ø Good resistance to most common solvents, moisture, oil, and grease
Product Data
OTHERS' SPECIFICATION & PARAMETER
SPECIFICATION
18G
GLOSS
22G
GLOSS
25G
GLOSS
27G
GLOSS
18M
MATT
22M
MATT
25M
MATT
27M
MATT
THICKNESS
(μm )
TOTAL
18
22
25
27
18
22
25
27
base
12
12
15
15
12
12
15
15
glue
6
10
10
12
6
10
10
12
WEIGHT
m2/kg
60.4
49.3
43.38
40.11
63.2
55.3
50.1
41.00
kg/m2
0.01656
0.02032
0.02305
0.02493
0.01582
0.01996
0.0226
0.0244
WIDTH(mm)
360 390 440 540 590 780 880 1080 1320 1400 1600 1800
(or as customers'requset)
LENGTH(m)
200-3000
PAPER CORE
25.4mm(1 inch),58mm(2.25 inch),76mm(3 inch)
BONDING
LESS THAN 2
TENSILE
STRENGTH
MD:2.4×106 dyne/cm CD:5.3×106dyne/cm
Application


Publications cover
Magazines, Books, Paper bags, Maps, and publicity materials
Package
Wine, Food, Medicine, Gift, Liquor, daily consumer goods
Advertisement

Post,

advertisement paper,

Clothes lag, Board, Drawing, Document, and Photos,
Packing
Rolling pachage, Paper box(export specification);
In pallet individual corrugated boxes;
Storage
The product should be stored in a dry, well ventilated warehouse. To aviod direct sunlight, the product should not be stored in the open air.
About EKO
FS EKO has been in the field of lamination film for over 10 years. The lamination films are SGS tested with patent approval. And the quality of the films is managed by the quality system ISO 9001: 2008.