Plastic Roll PVC Sports Tennis Floor Indoor Used
Maunsell
PVC sports flooring is an professional indoor vinyl sport flooring range produced in 3.5-8.0 mm thicknesses. You can combine between our 12 solid colors and 8 wood finishes to give the greatest look to your sport field or your gym. Our
PVC sports flooring
brings together performance, comfort and safety for the users reducing their injuries and increasing their sensations. which can be used in gymnasiums, fitness centers, schools, kindergartens and also in places where a good acoustic performance is required.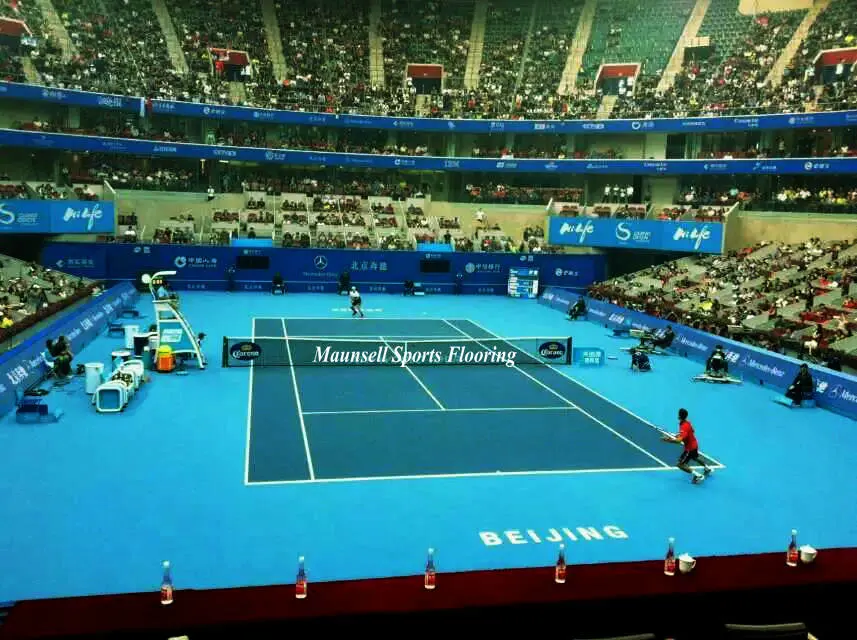 Specifications
1. 100% pure PVC/vinyl raw material
2. One-off scrape coating
3. ISO9001/ISO14001
4. Waterproof, anti-skid, high resilience
5. Olympic venues designated supplier
Technical Features:
Dimention: 15m(L)*1.8m(W)*3.5mm-8.0mm(T)
Surface pattern: pebble pattern
Color: Red, green ,blue
Backing: PVC foamed back
Wear layer: 1.2mm
Weight: For 4.5mm, 3.4kg/sqm approx
For 6.0mm, 4.7kg/sqm approx
Packaging: With paper tube inside and waterproof kraft paper covered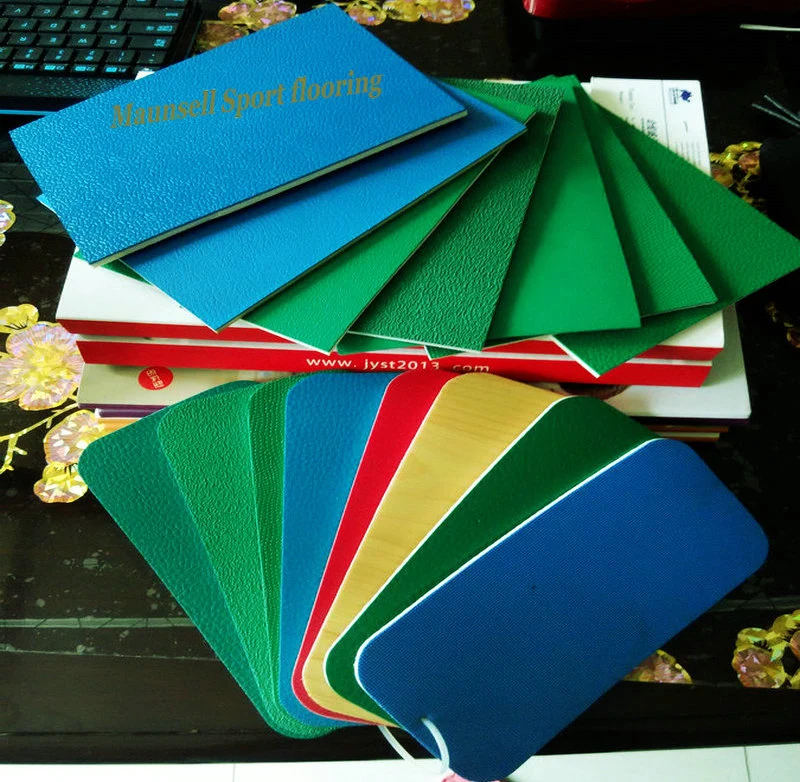 Composition:
1. Made of virgin material and environment conservation products: Leaf mold-resistance and technical antibacterial processing.
2. PVC one-off knife coating products
3. 100% pure PVC wear-resistant coat, so it has the longest life in congeneric products.
4. Quality warranty period is six years and service life is as long as ten years.
5. Good mobility, anti-aging, water-proof, fireproof, slide-prevention, and be able to endure Acid & Alkali.
6. Easy installation and maintenance.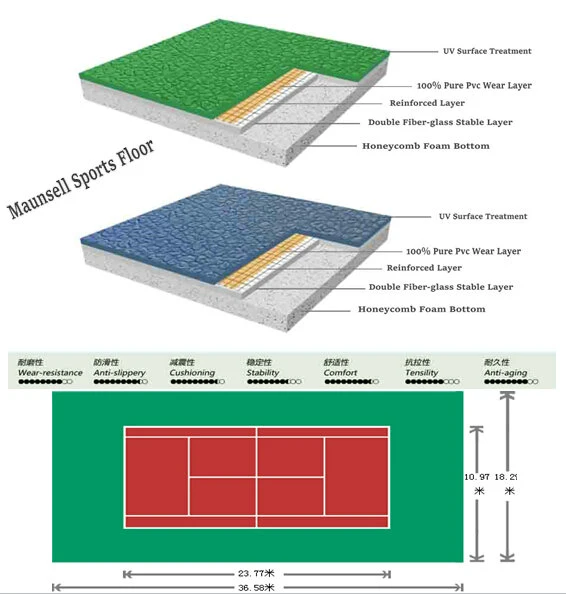 Materials:
The raw materials of our PVC floor is virgin materials instead of recycled materials to make sure the high quality of the floors. For our PVC sports floor, its service life is as long as 10 years under normal condition with 6 years warranty.
LOADING AND PACKING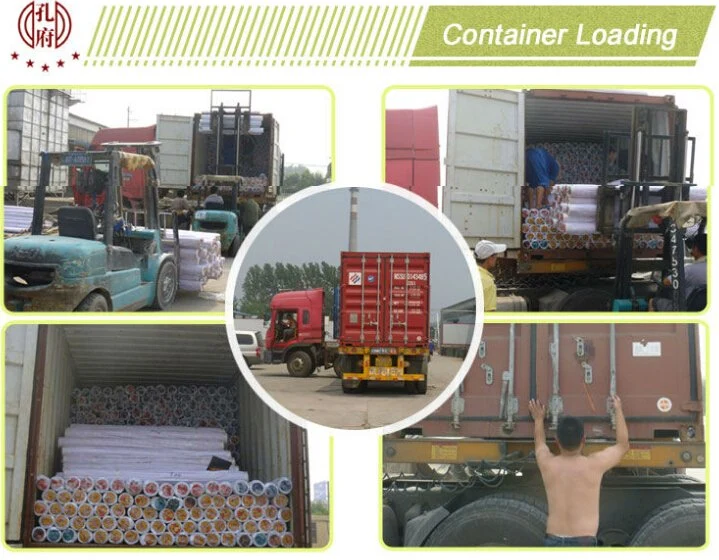 Pvc floor mobile installation steps
1 Floor - Mat formation
To spread the pvc floor according to the floor No.On the site of the level off, clean, clean and to made the field line alignment .
2 Connection with glue
Turn over the adjacent two pieces of the floor , put connect tape on commissure , brush the henkel glue on the surface of connection .
3 Adhesive floor
Pumping the wrapping paper while connecting floor, Put one floor commissure in half ,after that, do another half , then,close to the crack.
4 Finished Adhesived
After the gluing , for the clean-up of the ground work .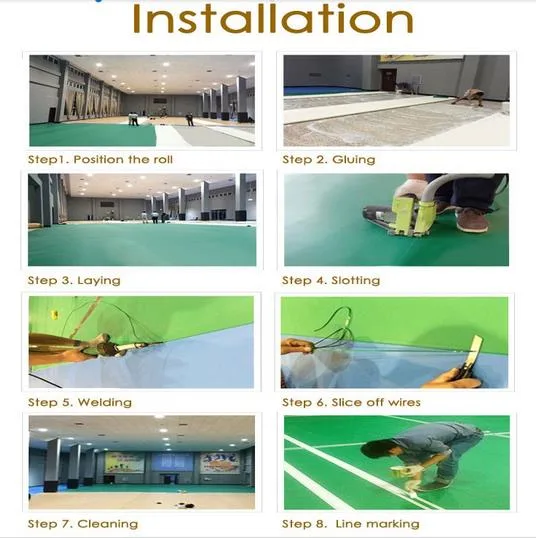 CUSTOMERS WITH US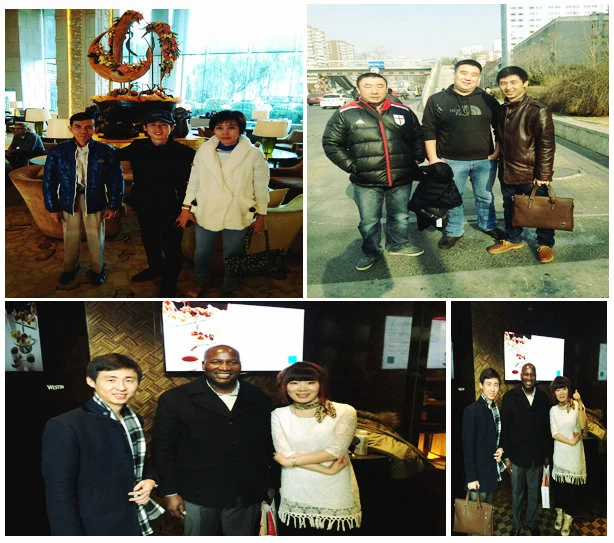 MAUNSELL SPORTS FLOORING WAITING FOR YOUR ENJOY